Engineering Process
Turbochargers operate under extreme conditions of temperature, speed and pressure, and must incorporate a vast wealth of technology in order to perform well and provide a satisfactory service life. At first glance, a turbocharger may appear to be a simple machine, but it has an incredibly difficult job in a rugged environment. Its performance and durability rely on in-depth engineering, the right materials, precision manufacturing, and meticulous assembly.
Engineering & Design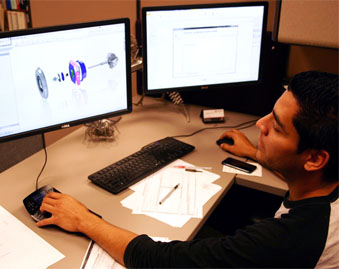 We care deeply about our people and recognize they are our most valuable asset. We welcome smart, hard-working, innovative, talented people with positive energy to join the Turbonetics family. We value individual contributions as well as team accomplishments
All Turbonetics products are the result of countless hours of design, research,development, and validation to the strictest industry standards. Tools such as advanced 3-D modeling, Computational Fluid Dynamics(CFD), and Finite Element Analysis (FEA) are vital to meeting the demanding performance and durability required by our customers.
To ensure that the full performance potential is realized, Turbonetics engineers painstakingly match the turbocharger to the customer's engine, using analytical methods and backing that up with prototypes for on-engine testing, to confirm that all objectives are met.
A hallmark of Turbonetics success is the application support each customer receives, each step of the way, from concept to production and beyond. Turbonetics engineers are focused on delivering the right solution, whether applying existing technology, or developing a new system to meet the unique needs of the customer.
Research and Development
Turbonetics is committed to pushing the state-of-the-art in design technology to constantly achieve higher efficiency, higher performance, and extended durability. Continuous efforts to advance compressor and turbine efficiency and flow are underway. From ever- higher pressure ratios for high-altitude operation, to extended map width for highly transient applications, and everything in between, Turbonetics is focused on solutions to the difficult and challenging conditions that our customers face. Constant enhancements in bearing system performance are achieved by improving rotor stability, increasing load capability, and reducing mechanical losses. These are key criteria for providing the highest reliability and performance for our customers.
Testing and Validation
Turbonetics has complete testing and validation capabilities to precisely measure improvements in aerodynamic and mechanical systems.
We have gas stand capability for:
Compressor and turbine mapping
Aero optimization of trim, tip height, clearance, anti-surge geometry, housing geometry
Extended durability testing
Burst and containment testing
Bearing system development
We also have bench test capability for:  
Regulator and waste-gate durability
Calibration development
Turbonetics provides and supports Lot Traceability and material controls in accordance with AS9100 Quality Management System for many of our military contracts.