Machining and Quality Team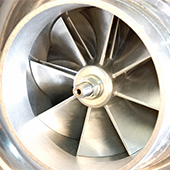 Turbonetics, Inc. employs highly qualified machinists to assure configuration and repeatability of each component is maintained. Utilizing CNC technology with BobCad and Mastercam for turning and milling, Turbonetics regularly produces parts to tolerances of +/-.0005 and even closer on some Military products. Turbonetics machine shop works with a variety of materials including steel, aluminum, titanium alloys, inconels, plastics and more.
To ensure our continued reputation for Quality in maintained, Turbonetics places Quality and Value paramount (unlike some other Turbocharger manufactures that sacrifice quality for affordability). With quality being so vital to us, we don't just wait for visits from independent outside inspectors. Our in-house inspectors are constantly examining both products and process to guarantee that product conformity and maximum performance is achieved the first time and every time. After all, our Customer is our most important inspector.
Manufacturing and Quality work hand-in-hand utilizing state of the art inspection devices to assure conformity is maintained through machining processes, our CMM uses PC-DMIS CAD software that supports IGES files to be sent from Engineering to Quality for 3D modelling verification. All verification and conformity gages, instruments and tooling are calibrated in accordance with ANSI/NCSL Z540 and only use Metrology laboratories that meet ISO/IEC 17025.
Turbonetics meets and exceeds all requirements of ISO 9001:2015 and holds certification with SRI as our Registrar which is ANAB accredited.
Turbonetics also supports and meets all Production Parts Approval Process (PPAP) in accordance with ISO/TS16949 Quality Management System.
Turbonetics also provides and supports Lot Traceability and material controls in accordance with AS9100 Quality Management System for many of our Military contracts.
Our Quality Policy
Turbonetics, Inc. is committed to Designing, Developing and Manufacturing the highest quality turbocharger, heat exchanger, pressure control and forced induction related products for our Customers by:
Striving to meet or exceed our Customers' requirements and expectations for product, quality, performance and delivery.
Assuring quality objectives are established, monitored and reviewed through our Plan, Do, Check and Act System.
Continuously improving our processes and systems through Customer feedback, Quality audits, Management reviews and Wabtec's Quality Performance System.
Ensuring our personnel are properly informed, trained and empowered to improve quality and process control to better serve our Customers.
Treat each other with dignity and respect.
What Tools, Strategies and Methods do we use that makes Turbonetics so Successful?
- Team Involvement (Employee Suggestion Program and Continuous Improvement Training)
- Safety Awareness Program
- ISO 9001:2015 QMS (Registered) SRI
- Management Reviews
- Lean Principles
- SPC
- Detailed Product Realization Planning
- PPAPs (in compliance with TS16949)
- Plan, Do, Check, Act (Problem solving process)
- Team Kaizen Projects
- Value Stream Mapping
- Dashboards (Measuring Departmental Performance)
- Open Book Management philosophy